Scouts BSA Summer Camp 2023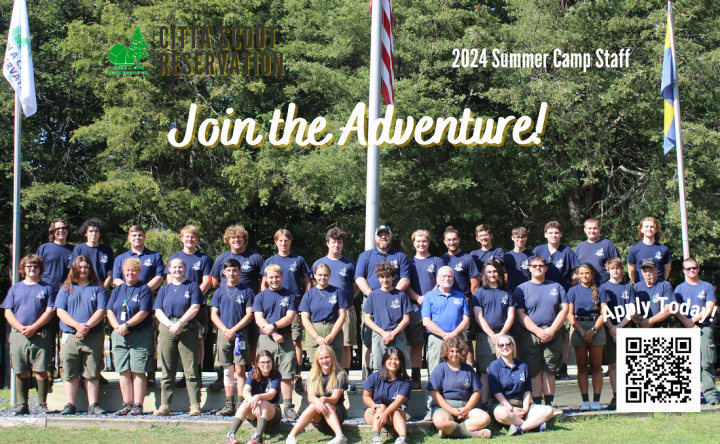 Every year over 1000 Scouts and Scouters pass through the gates of the Joseph A. Citta Scout Reservation and stay in one of nine unit camping sites. Sites are available with different accommodations to meet every unit's needs! Each site is furnished with two-man wall tents (except Kewe with 4 man Lean To's), canvas cots, picnic tables, Flushing Toilets, and a pavilion. For units with special needs (electricity for medical use etc) please let us know with your registration so we can best serve you.
Our project to put flushing toilets in every campsite is FINISHED! They will be ready for your troop this summer.
---
IS YOUR TROOP GOING TO ANOTHER CAMP, BUT YOU'D RATHER COME TO CITTA? PERHAPS YOU WANT TO COME FOR A SECOND WEEK OF CAMP TO FINISH UP THOSE MERIT BADGES? ARE YOU GOING TO THE 2023 NATIONAL JAMBOREE AND STILL WANT TO GO TO SUMMER CAMP TO WORK ON ADVANCEMENTS? PROVISIONAL CAMPING SLOTS ARE AVAILABLE! CONTACT US AND ASK HOW YOU CAN COME TO AMERICA'S FAVORITE SCOUT CAMP ON YOUR OWN!!
---
2023 Summer Camp Pricing if paid in full
| | Before 5/01/2023 | 5/1/2023-6/15/2023 | Late Fee after 6/15 |
| --- | --- | --- | --- |
| In Council | $500 | $525 | $540 |
| Out of Council | $510 | $535 | $550 |
| 2nd week | $350 | $350 | $350 |
ALL UNITS MUST COMPLETE A YPT CERTFICATION SHEET FOR ALL LEADERS.
ADULTS WITHOUT A VERIFIED YPT CERTIFICATION WILL NOT BE ABLE TO STAY AT CAMP!
2023 Summer Camp Dates
July 9 - July 15
July 16 - July 22
July 23 - July 29
Please complete the 2023 Citta Reservation form below and mail it with the deposit to: Jersey Shore Council 1518 Ridgeway Rd. Toms River, NJ 08755
---
Here is some of what Citta Scout Reservation has to offer:
Swimming Canoeing Kayaking Rowing Paddleboarding Lifesaving
Rifle Shooting Shotgun Shooting Archery Cowboy Action 3D Archery course
Ecology Scoutcraft First Year Camper Program Handicraft Eagle Corps COPE
Open Program on Friday Biking Trips Time at the Beach- Atlantic Ocean
And much more.....
---
Payment Options:
Check - Please make checks payable to Jersey Shore Council at 1518 Ridgeway Rd. Toms River, NJ 08755. Payments should be received at Jersey Shore Council two weeks before the reservation date and will be entered onto your account on the website.
Credit/Debit Cards - Effective December 1, 2021, all credit, debit card, or eCheck purchases will be charged a 5% transaction fee.
Cash - Cash is accepted at our council offices in Galloway (500 East Fairway Lane Galloway, NJ 08205) or Toms River (1518 Ridgeway Rd. Toms River, NJ 08755). Your payment will be entered into your account on the website.
THERE IS A NEW SUMMER CAMP REFUND POLICY. PLEASE REVIEW THE REFUND REQUEST LETTER FORM BELOW TO FAMILIARIZE YOURSELF WITH THE NEW REFUND POLICY.
| File Name | Description | |
| --- | --- | --- |
| 2023 Campership Form | For Scouts with a financial need. Must be completed by May 2023 | Download |
| 2023 CSR Promo Flyer | | Download |
| 2023 Leader's Guide | | Download |
| 2023 Program Guide | | Download |
| 2023 SUMMER CAMP RESERVATION FORM | Reservation form | Download |
| 2023 Trifold Flyer | | Download |
| BSA Medial Forms: Part A, B, & C | BSA required medical forms for trips that are over 72 hours (ex. week-long summer camp) | Download |
| Citta Scout Reservation Map | | Download |
| Dietary Restriction Form | | Download |
| Over the Counter Medication Form-Cub Scouts | Please fill out this form so, if needed, the health officer knows what OTC meds he can administer | Download |
| Prescription Medication Form | If your scout has perscriptions medications, please fill out this form | Download |
| Summer Camp Refund Request Form | | Download |
| Unit Swim Classifcation Record | | Download |
| YPT Certification Sheet | | Download |